Adjusting My Expectations Based On My Overly Optimistic Resolutions in 2021
I love New Year's resolutions. I love how, as a society, we've embraced the concept of reinventing yourself on what is essentially an arbitrary day of the year, allowing for you to be your ideal version of self for exactly one week… until you remember why you didn't do any of the things you set out to do in the first place.
Before New Year's, you've most likely spent the last weeks enjoying the holidays, eating, drinking, and lounging as much as you like. Because we live in a late-stage-capitalist dystopia where you're nothing unless you're productive, you've also most likely felt guilty about doing nothing. But no fear, the promise of the new year as a blank slate makes it all acceptable since you no longer have to be that person…as of next year, of course.
Having achieved none of my 2021 resolutions, I've decided to take a more realistic approach for 2022. This year, I've reworked all my failed resolutions of yore into something more achievable.
Instead of…
…shopping less, I will be buying more storage to neatly fit all the stuff I've accumulated in the last year, so that it at least looks like I didn't buy as much as I did.
Last year, I made the resolution to go on a no-buy for the entire year. After 4 months, I caved after I realized none of my jeans fit me anymore and my options were to either fight with my jeans (and vanity) every morning, or swallow my pride and get a size that fits. I could have only bought the jeans, but once the no-buy was broken, the itch to shop came back worse than ever before.
Now, I am left with too much shit in the house. To combat this, I'll be focusing on now buying all the storage accoutrements needed to make it look like I didn't raid a tasteful flea market. This way, I can make my shopping feel useful and hide away the evidence of my failure in one go.
…trying out new healthy recipes, I will be making a Pinterest board of all the recipes I want to cook this year and proceed to forget about it.
They say being well-prepared is the key to success. What they don't say is that the amount of time spent preparing can be as tiring as the actual doing. There should be a formula that calculates when you've gone too far in researching and planning, and are actually wasting time and energy instead of saving it. Proactive, hustling business students of the world, I'm leaving this in your hands.
By making a Pinterest board of all the healthy recipes I want to try this year, I can hide under the illusion of productivity instead of admitting I'm procrastinating. And because that took too much mental effort and I deserve a reward, I'll just order some pizza instead.
…waking up at 6AM every day, I will be setting my first alarm for 6AM and subsequent alarms at every 10-minute interval until 8:00AM
2022 will be the year I stop snoozing. Instead, I am coming to terms with my inability to get up early in the morning on my own and relying on the power of peer pressure. I'm taking advantage of the fact that I share the bed with my partner and that eventually, I'll either start getting up in time, or he'll dump me for putting him through this. There are three ways I foresee this going:
Option A: the guilt of having to put my partner through an endless onslaught of alarms every morning will eat me alive and I will get up on the first alarm.
Option B: the fear that my partner will eventually leave me for someone less annoying in the morning will motivate me to jump out of bed from the get-go.
Option C: I end up single.
…no longer sleeping in on the weekends, I will be online shopping every Friday and Saturday – ordering stuff with next-day delivery only.
I'm taking the hotel wake-up call and bringing it home by unwittingly involving the Dutch postal service in this resolution.
Since we're the first stop of the day, the delivery man will be my wake-up call between 7 and 8:30AM. Not only does the heart-attack-inducing buzz of the doorbell wake me up better than any alarm, but the sleep-fueled stumble to the front door to croak out a mumbled "I'll buzz you in, please leave it downstairs" forces me to get out of bed.
Add on to that the panic-dressing to run quickly downstairs to get the package, before any of the neighbors kick it down the hallway, and there's no way I can sleep in after that.
…no longer using my phone in the evenings, I will be only using my phone to message other people about how I really (but really) should stop using my phone in the evenings.
Misery loves company, and if I lack the self-control to get off my phone in the evenings, then I'm bringing everyone else down with me. There are few bonding experiences that can beat out that of sharing your failures with another human being who is failing at the same thing. And I'll know they're failing at the same thing the moment they text back.
In an effort to make sure I follow through with this resolution, I have prepared a list of riveting conversation starters:
"Ugh, I really need to stop being on my phone so late. I should be reading or something, lol".
"Do you ever have it where you're just scrolling through Instagram for hours and are like, what am I even doing on here, your lives aren't even that interesting? Because that's me rn".
"Man, I've been trying the whole "no phone at night thing", but am failing SO HARD lmao".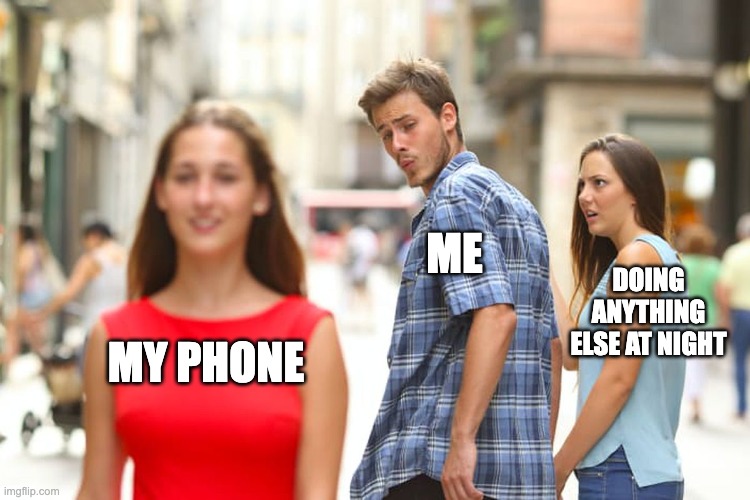 …exercising more, I will finally give in to the trend of athleisure and start wearing my exercise clothes in public to deceive people into thinking I've been working out.
Since I don't trust working out around other sweaty, possibly contagious human beings anytime soon and most at-home workouts make me paranoid that my downstairs neighbor will get closer to plotting my murder with each lunge jump, I'm giving up on physically exerting myself. In an effort to not let the workout outfits that have been gathering dust underneath my bed go to waste, I'll be wearing them out in public.
Up until now, athleisure never interested me. Something about it screams "I think I'm better than you because I not only work out, but I'm so active that I make sure my attire shows you that I could sprint off into the sunset at any given moment". Although I might be projecting, the air of superiority and put-togetherness of regular exercising is the only thing that attracts me to it. So, this year I will only be embracing the clothing while avoiding the hard work.
…learning the guitar, I will be shifting my daydreaming from being scouted, published, and unxpectedly becoming the author of a bestseller, to winning my first Grammy.
Is it just me, or has it felt like manifesting has been everywhere last year? Maybe the combination of the weight of 2020 with the brief moment of light in the middle of 2021 made everyone latch onto a concept that's all about thinking things into being better. Well, an important step in manifestation is visualizing, and I'm hopping onto the trend by daydreaming visualizing myself being such a talented guitar player that I win a Grammy for my gnarly guitar-playing skills.
This will be disregarding the fact that I'm better at collecting dust on my guitar than picking it up, better at complaining after 10 minutes of practice because my fingers hurt too much, and better at not understanding chords, even if the concept has been explained to me by multiple people on separate occasions.
Nope, I'm ignoring all that and I'm relying on the power of manifestation to magically motivate me to become a God at guitar.
…keeping up with world news , I will be doubling down on my time ignoring as much of the world news as possible, instead focusing exclusively on the happenings of cute animals.
In 2021, we saw a glimmer of hope with the roll-out of the vaccine and the global lifting of COVID restrictions. For a moment, this year did not seem to be turning into the dumpster fire of the last, and all was good. Unfortunately, we're ending it on full lockdowns in parts of Europe, increased travel restrictions, and a hyper-contagious variant that sounds vaguely like a Transformer (side note: can we start naming variants after Transformers instead of Greek letters? It might make this whole situation at least 21.7% more amusing).
Based on this, I've come to the conclusion that hoping has become tiresome and escapism is the way to go. In 2022, it's all cute animal videos, all the time. Unless your news article involves a pair of unlikely furry friends, I do not want it.
New Year's Day is the Monday of the year – magnified. You know how every weekend, particularly those filled with laziness and debauchery, you tell yourself that Monday you'll be better? "I'll start exercising…Monday". "I'll journal every day… from Monday". "I'm eating healthier… as of Monday". Monday is a magical place of promise, where you'll become the best version of yourself. The self-disciplined, well-rounded version of you. Not the hungover you, who just ordered McDonald's, and will stay up until 3 in the morning watching Emily in Paris.
Even if I never stick to my resolutions, I can't stop making a new list of goals each new year. Prone to sentimentality, I'll jump at any chance for a symbolic empty slate and a fresh start.
If you're also a sucker for new years resolutions, let me know what overly-optimistic, unrealistic goals you've set out for yourself this year, and how you plan on reworking them for peak realism.
Like what you see? I post a new blog every beginning of the week (except for the holiday season it seems – usually I'm pretty good with keeping up with it, I swear) where I talk about… whatever THOUGHT interests me that week. Expect a bit of books, travel, beauty, life lessons, and taking pop culture way too seriously.